Dr. Erich C. Ott
GENTLE, LEADING-EDGE DENTAL CARE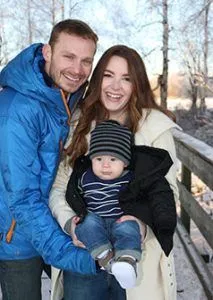 I love my family, I love Fairbanks, I love the outdoors, and I'm passionate about dentistry. I want to provide you with the best dentistry possible without compromise, in a supportive and fun-loving environment.

I value my patients as people. I want to understand each person's needs and desires, I want them to talk with me about their goals and concerns so I can provide a customized care approach that works best for them. I deliver dental care with three fundamental concepts in mind: I want it to function well, feel great, and look beautiful. To achieve that, I must know about your lifestyle, your timeline, and how you need to be cared for.
I'm a Fairbanks native. I had other healthcare opportunities, but decided on dentistry. One of the reasons I chose dentistry is so I could return to Fairbanks and work in a family oriented practice. I want the opportunity to build relationships with some of the finest people in Fairbanks. It's my hope those relationships grown into friendships.
EDUCATION AND CONTINUING EDUCATION
In 1997 I graduated from West Valley High School here in Fairbanks. I then enrolled at Oregon State University for a new perspective and to join their wrestling team; it was there I received my undergraduate education. In 2010 I graduated from Oregon Health & Sciences University with my Doctorate of Dental Medicine.
Dentistry in always evolving. To keep up with the changes, I'm committed to constantly learning in order to provide the best state of the art dental care.
I'm also part of a local Spear Study Club made up of ten local dentists and dental specialists. We come together once per month for interdisciplinary collaboration as health care providers raising the standard of care in our community.
PROFESSIONAL MEMBERSHIPS
American Dental Association
American Academy of General Dentists
Spear Study Club
PERSONAL LIFE
I have a wonderful wife, Nicole, and two young boys Easton and Atigun. Of course I can't leave out my four-legged hunting partner Bella. My Parents, Janice and Alvin Ott, still live in the house I was raised in, here in Fairbanks. My seven siblings are all married with children of their own. There's a good chance if you meet someone in Fairbanks with the last name Ott, they are related to me!
I love the outdoors. Most of my summer trips revolve around rafting, fishing, and occasionally hunting. In the winter you'll find me tinkering in the garage on some project, projects that have no finish date attached, projects that my wife Nicole complains always take too long!